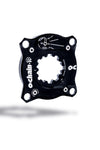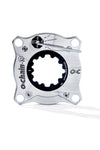 Revolution. Regulation. Real. Finally, after a long R&D process. Ochain•R is ascending the top of Ochain range. Thanks to a sophisticated, patented system, it enables riders to set up the appropriate "degree of freedom" from its outer face.

What does it for you?
Ochain is an active spider, allowing the chainring to rotate backwards in order to disengage the transmission from the suspension, improving the whole riding experience and the bike's performance.

Our engineers defined four setup possibilities, resulting in different degrees of proportional rotation. The defined options are: 4° / 6° / 9°/ 12° . Each one stands for a different degree of freedom your transmission can get for you to fulfill any riding condition and style.


Pinkbike's Matt Beer says:
"The chain forces that the Active Spider isolates is quite impressive. I believe there is both a physical improvement to the suspension performance when the chainring can rotate to a degree, plus it adds a qualitative bonus by reducing the noises caused by chainslap. The small amount of lag in the pedal stroke is a tradeoff that is worth coming to terms with if the bike in question is susceptible to chain feedback."
Link to the Pinkbike review here 
Specs:
Main material: Al Alloy 7075 T6 / 6082 T6
Weight: 150g
Virtual chainring offset 3mm (please check your actual chainring offset)
Black white anodized
Standard bcd 104 mm chainrings
Provided with one spare Ochain Elastomer Kit
This component has a maximum weight limit for the cyclist of 120kg.
Ochain Chainring ergal Nut is included!
(Ochain nuts compatibility is guaranteed only with our Ochain chainring)