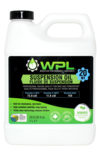 WPL ShockBoost Suspension Oil
ShockBoost Bike Suspension Oil: high-performance bio lubricant. ShockBoost is a premium quality suspension oil developed with professional mountain bike athletes and mechanics. Designed for use in both forks and shocks. Bio-composition increases corrosion inhibition, detergency, and thermal stability. Biodegradable, non-toxic, and safe for mechanics and the environment. Extreme oxidative stability maintains chemical integrity throughout use. Additive-free tri-ester technology produces optimal lubricity for mountain bike suspension.
Available in 250ml and 1L sizes in 2.5, 5, 7, 10 and 20wt.
 FEATURES:
High oxidative stability
Additive free, extreme lubricity
Biodegradable, non-toxic, safe for mechanics
Developed with professional riders and mechanics
GENERAL GUIDELINES AND RECOMMENDED USE FOR WPL SHOCKBOOST SUSPENSION OIL:
ShockBoost 2.5wt: Dampers and Rear Shocks. Replaces Fox and RockShox 5wt oil.
ShockBoost 5wt: Dampers and rear shocks.
ShockBoost 7wt: Open-bath dampers.
ShockBoost 10wt: Some Cartridge and Open Bath Dampers.
ShockBoost 20wt: All fork lowers/splash bath lubrication.